Understand Error codes
⚠️ To see if your Logmore Logger has experienced some errors on the way, you can check error codes. Those are shown in different places and ways.
Where to find Error codes
Loggers
When you scan a logger with your smartphone or Scanpoint
New screen will appear simultaneously with the Scan page. It will tell you that the logger has transmitted error codes to the Cloud at any point during its lifetime.

All you need to do is skip the screen by pressing the bypass button.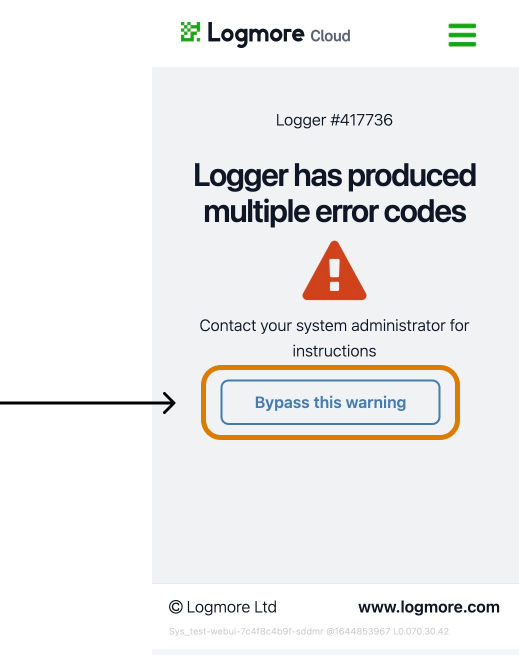 When you see a list of loggers
Possible errors will be indicated next to the logger's ID number.
Search for all loggers with error codes by filtering: Error codes → Are present.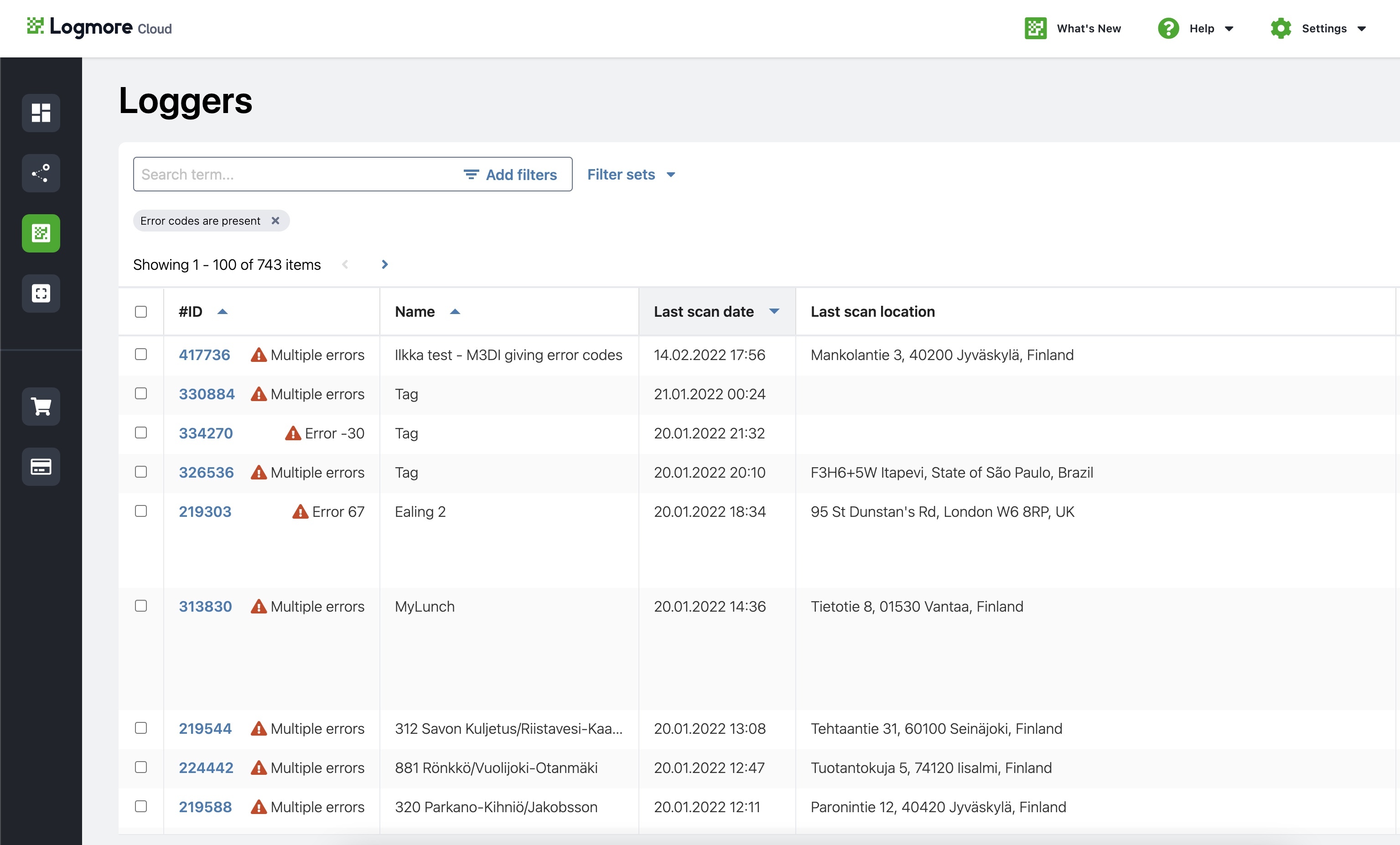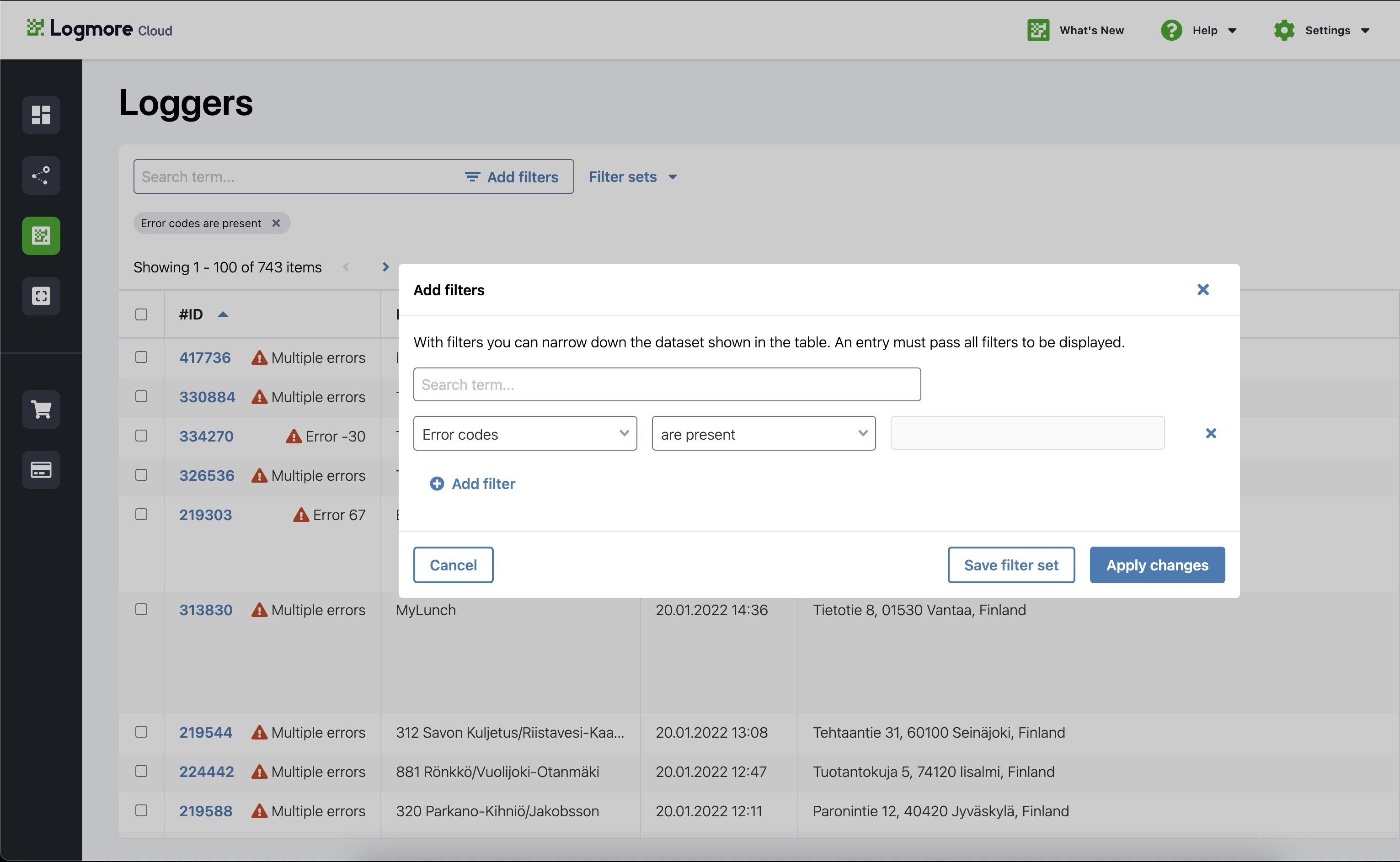 When you open a logger page
Error codes are listed separately under the graph.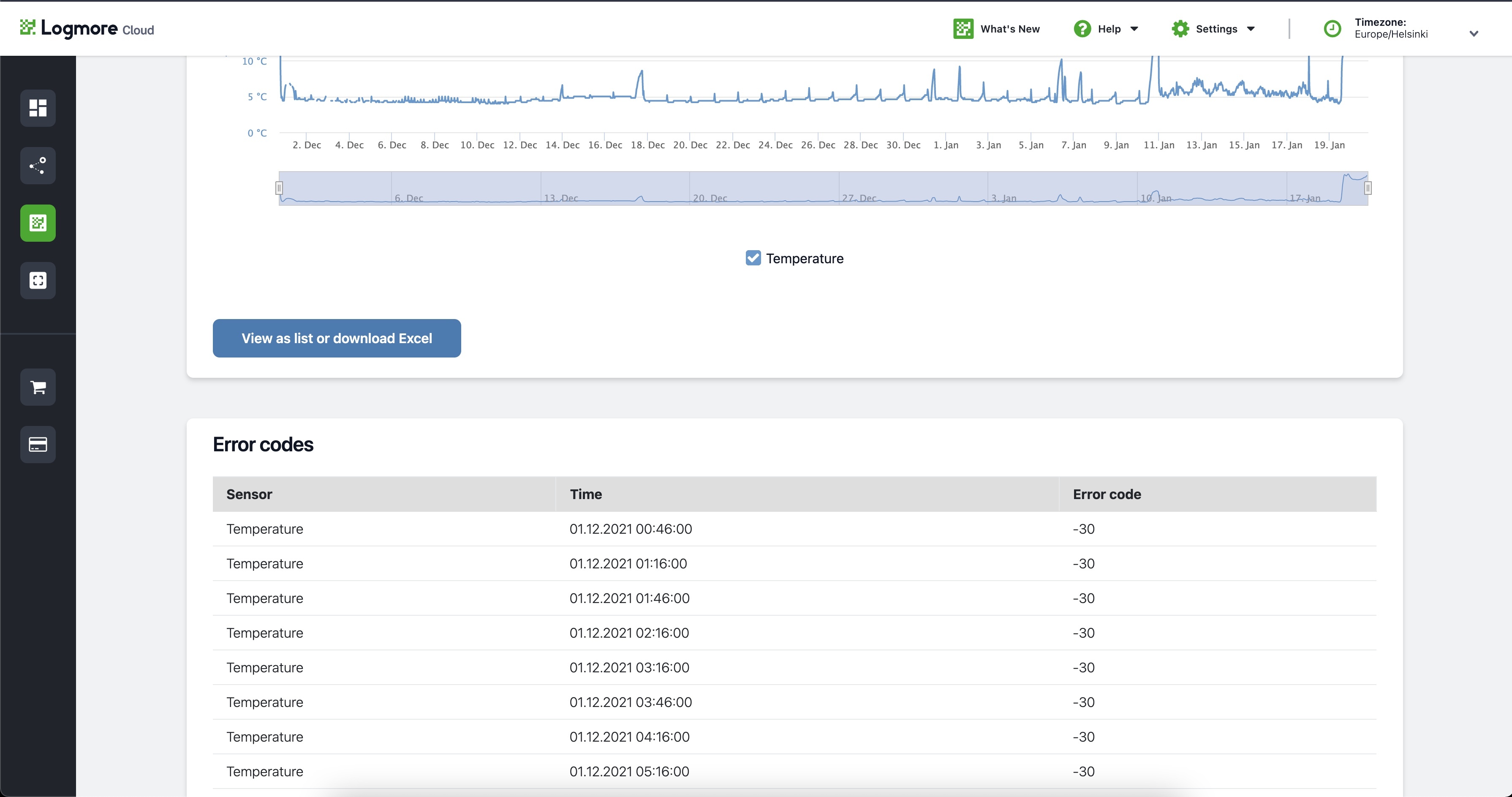 Missions
When you see a list of missions
If the mission's timeline contains error codes, it will have a data status of "Error codes from logger". You can search for missions with that data status as well.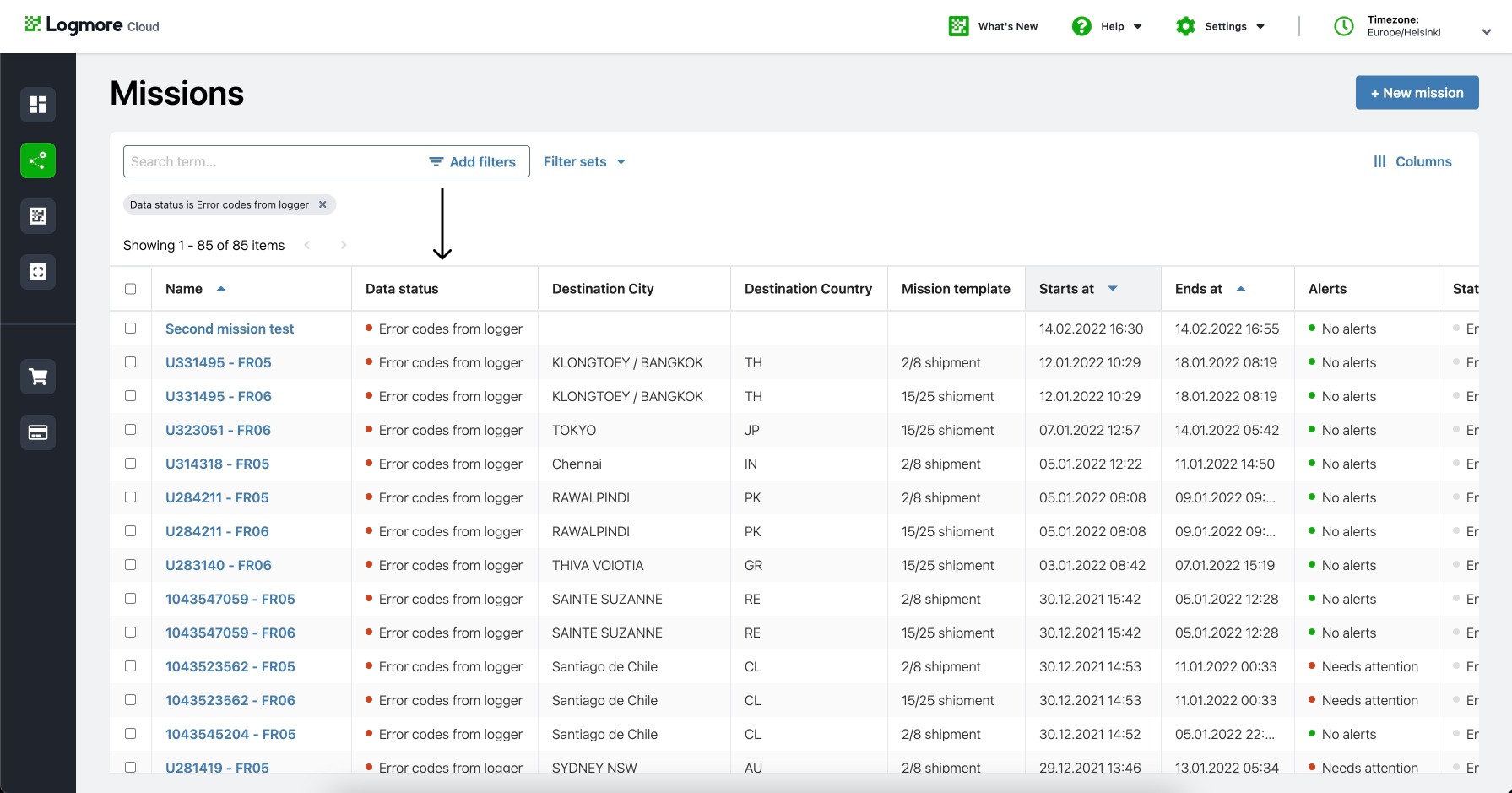 On the individual mission page
Error codes are listed separately under the graph. Error code "measurements" are removed from the graph.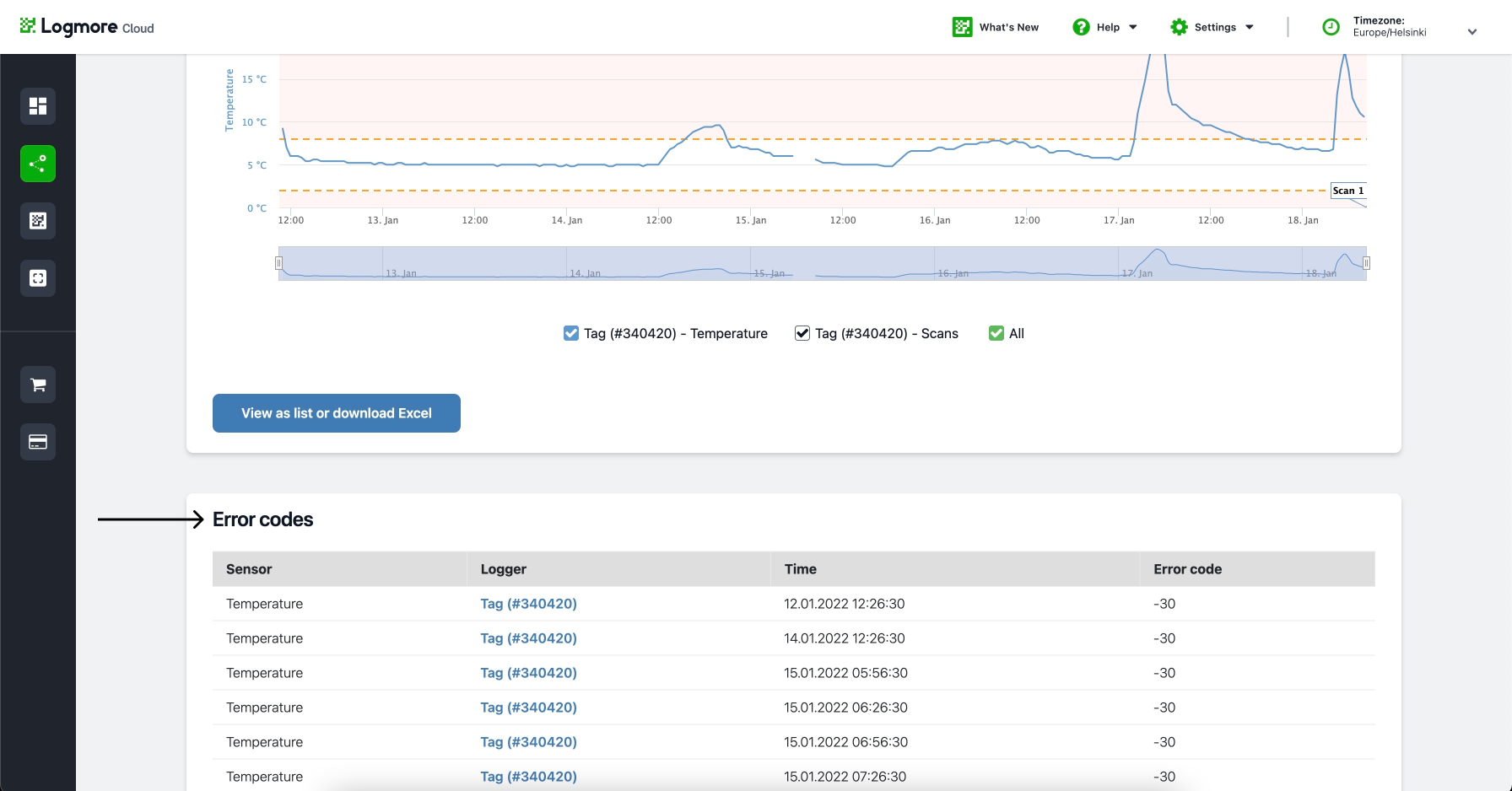 Reports
Error codes are visible on the mission Excel and PDF reports as well. On the PDF, error codes are listed on the last page of the report. In the Excel, error codes are indicated clearly but they are in the correct measurement timeline order.
How to read Error codes
There are three types of error codes, regardless of the logger model you have.
−90x (−900, −901, −902, −903): This class of error codes means Hardware error: Logger software had trouble reading the sensor. In case of -903 it's an external sensor.

−30 or any high negative number, like -103: The logger has been exposed to cold temperatures. In some cases (if your logger is produced at the end of 2021 or earlier), this code can mean a Hardware error.

Note: this applies only to the loggers with the internal temperature sensor. For external temperature sensor −30 is a valid measurement.

60 or higher (high positive number): Logger has been exposed to high temperatures, outside of the logger specification.
What to do if you see an Error code
For Hardware errors: placing the logger differently could help the case (if there is a lot of mechanical stress on the probe/cable, and the logger can't communicate with the probe correctly).
For Software errors: contact us, and we will investigate this issue further.