Triggered alerts appear in Logmore Cloud if the measurements collected by a logger violated the Mission's Alert rules. Note that alert notifications are generated only after the data logger has been scanned and the data uploaded to the Cloud.
Once alerts have been triggered, you can review and analyze them:
View Alerts on the Mission's page
Mark Alerts as checked
Comment on Alerts
Review Alerts in PDF Mission reports
View Alerts on the Mission's page
Triggered alerts can be found at the top of the relevant Mission's page. Clicking View alerts brings you to the section of the same page with detailed alert specifications.

Mark Alerts as checked
In the Alerts section of the Mission's page, you can mark alerts checked. This action moves an alert to the "checked" tab of the list and won't show up as a notification on the scan page.
Put a check mark next to the alert you have reviewed.
Press Mark selected alerts as checked.
Now you can find checked alerts in the Checked tab, while unchecked alerts remain in the Needs attention tab.

The button on the top of the Mission's page will now turn gray and show All alerts checked.

Comment on Alerts
If something needs to be said about a specific alert (e.g., "Don't mind this, it was a mistake on my part, I left the logger on a table in room temperature"), it can be done using comments in Missions.
Commenting on alerts can help clarify what has happened and why, and whether the alert can be ignored or not.
Click on the Add comment button next to a specific alert in the Alerts field. A hashtag containing the alert's unique number is automatically pre-filled. Add your comment and click Submit.
Once posted, the comment contains the hashtag, the message, and the user's email address.
Clicking the hashtag will bring you to the alert in question and will highlight it for a few seconds.
This way it's easy to see what the details of the alert in question are. The number of comments on an alert is also indicated in the table.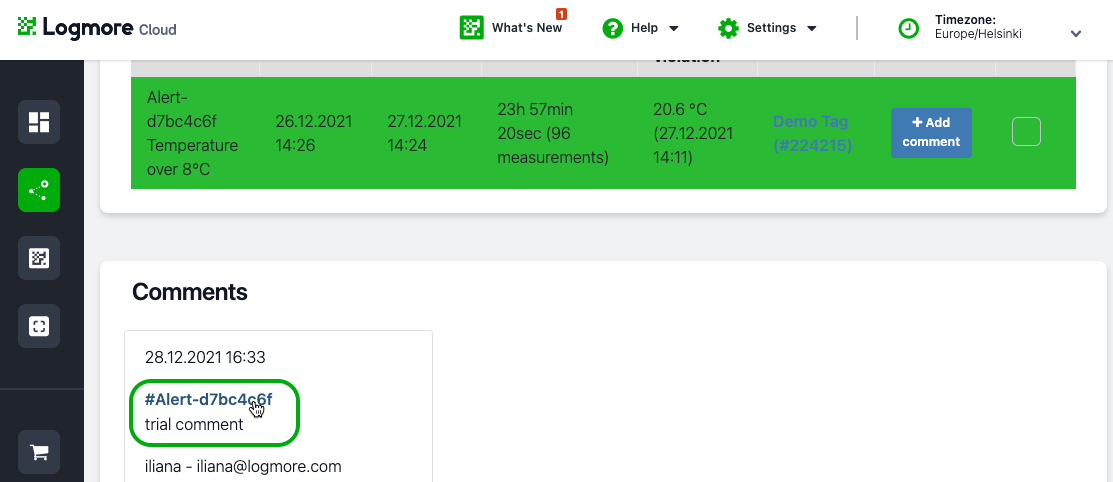 Review Alerts in PDF Mission reports
The triggered Alerts are also visible on the PDF Mission report that you can download from the Mission's page by clicking Print PDF.
The box in the right upper corner will show if the shipment has any unchecked or checked alerts.
The summary will show the number of alerts.
Below you will find the total time spent in Alert zones.
Page 2 will contain the details of the alerts and comments.