As a crucial part of Missions, alerts offer the chance to instantly recognize unacceptable measurements in the collected data. You create an alert rule for desirable shipment conditions, and if it's violated, you receive an alert. The offered parameters depend on the sensors available in the QR data loggers included in that mission.
You can receive an alert as:
an email notification
alerts in the Cloud
warning on a Scan page after scanning the logger
Alert rules in Mission templates and Missions
You can find alerts in each Mission's settings on the missions page in Logmore Cloud. They can be configured when creating an individual Mission or a Mission template under Alert rules.

Alert rules are most effective when added to Mission templates. In this way, all Missions created from a template will inherit the template's Alert rules.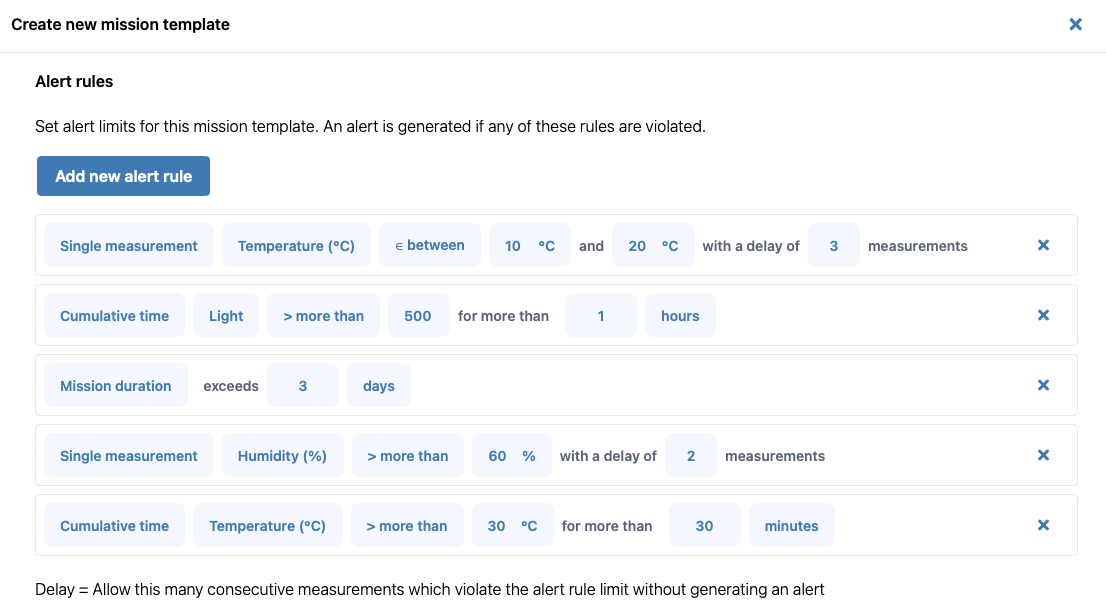 Available sensors are:
Probe temperature (only for Logmore QR loggers with external probe)
Temperature
Light
Humidity
Shocks
The available alert rules depend on the loggers attached to the Mission. If you create Alert rules for sensors that your loggers don't have, you will get an error message.
The temperature measurement unit (C or F) depends on your configurations in Settings —> Account.
Available conditions for alerts are:
> more than
< less than
≥ equal or more than
≤ equal or less than
∉ not between
∈ between