Sometimes, when you scan the logger, you can get two types of "yellow screens" with Data Missing warnings: "Read History QR Code" or "Latest data missing". In this article, we will cover what causes it, what's the difference, and how to act when you get those warnings.
Why data can be missing from your Data Logger
The screen is frozen. You will get the "Latest data missing" message in this case.
A logger isn't scanned for a long time. In this case, there's more data than one QR code can hold. A "full" QR code is "archived". We call it History QR Code.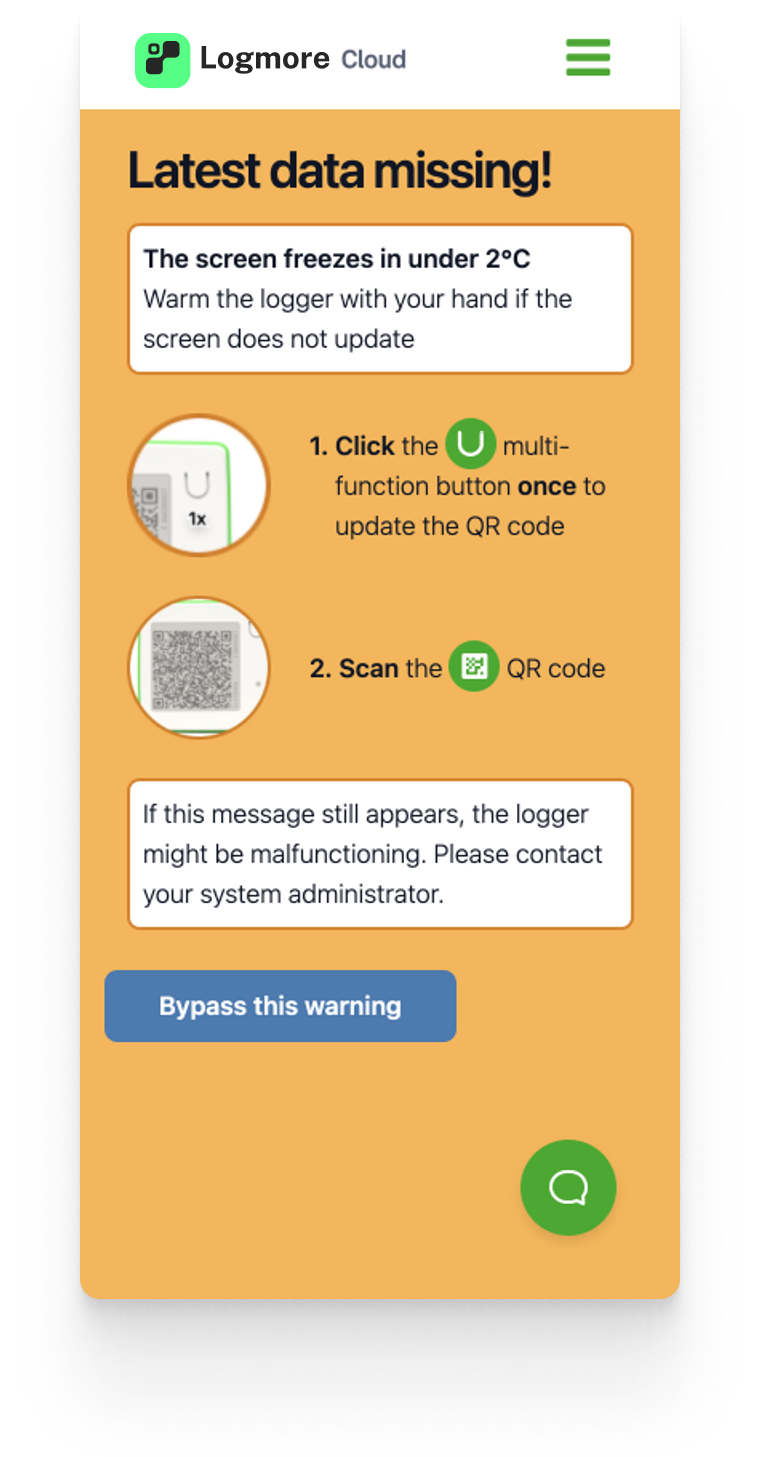 Latest Data Missing Warning

History QR Code Warning
Note: History QR code usually appears when there's data missing from the beginning or the middle part of the Mission. "Latest data missing" is usually related to the end of the Mission.
What to do, if you got one of these warnings?
Warm up the screen. Push the button once and if the QR code on the display flash, it means the latest QR code is on the screen, and it can be scanned as usual.
Scan the History QR code. Push the button twice, and scan the History QR code as usual. Push once to reveal the next History QR code, and scan it, too. Repeat until you see the message "End of history. Returning live". Read more on the History QR Codes.
Mission and logger-related warnings
All of the loggers are set up for giving you a "Data missing" warning if there's some data missing from the Mission. This means that you will be notified if any data is missing so that you can take appropriate action.
If you already have a loggers-specific setup, "Data missing" warnings will continue to work as usual.
You will start seeing Mission-related warnings if you haven't had any setup. This will ensure that all the data is uploaded and you can access accurate information.
Note! If a logger keeps showing a "Data missing" warning because of an old mission, archiving it will stop showing the warnings for this logger.
If you have any questions, please contact us at support@logmore.com.